ABOUT NEPAL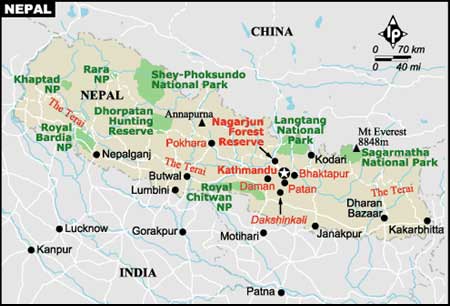 AREA:
147,181 sq. kilometers
ALTITUDE:
70 m-8848 m.
CAPITAL:
Kathmandu
POPULATION:
+2 crores

LANGUAGE:

Nepali is the national language of Nepal. Educated people understand and speak English as well.

TIME:

Nepal Time is 5 hours 45 minutes ahead of GMT and 15 minutes ahead of Indian standard time.

CLIMATE

Winter: December-February
Spring: March-May
Summer: June-August
Autumn: September- November.

Nepal can be visited the whole year round.


PEOPLE & RELIGION



Nepalese people are mainly divided into two distinct groups the Indo-Aryans and the Magnolias. Kathmandu Valley is the spiritual and cultural meeting point of all these groups. Majority of people are Hindu and Buddhist. Beside Hindu and Buddhist, Muslims and Christians also live in Nepal. Nepal is a birthplace of Lord Buddha, the light of Asia. There is a complex blending of Hinduism, Christianity, Islam and Buddhism in Nepal.

GEOGRAPHY



The arid and barren Himalayan landscape Nepal is of roughly trapezoidal shape, 800 kilometers (500 mi) long and 200 kilometers (125 mi) wide, with an area of 147,181 square kilometers (56,827 sq mi). Nepal is commonly divided into three physiographic areas: the Mountain, Hill, and Terai Regions. These ecological belts run east-west and are bisected by Nepal's major river systems. Nepal is roughly the same size as the US state of Michigan.
The Terai Plains bordering India are part of the northern rim of the Indo-Gangetic plains. They were formed and are fed by three major rivers: the Koshi, the Narayani (India's Gandaki River), and the Karnali. This region has a hot, humid climate.


The Hill Region abuts the mountains and varies from 1,000 to 4,000 meters (3,300–13,125 ft) in altitude. Two low mountain ranges, the Mahabharata and the Churia Range dominate the region. The hilly belt includes the Kathmandu Valley, the country's most fertile and urbanized area. Unlike the valleys, elevations above 2,500 meters (8,200 ft) are sparsely populated.
The Mountain Region contains the highest region in the world. The world's highest mountain, Mount Everest at 8,850 meters (29,035 ft) is located on the border with China. Eight of the world's fourteen highest mountains are located in Nepal. Kanchenjunga, the world's third highest peak, is also located in Nepal. Deforestation is a major problem in all regions, with resulting erosion and degradation of ecosystems.


Nepal has five climatic zones, broadly corresponding to altitude. The tropical and subtropical zones lie below 1,200 meters (3,940 ft), the temperate zone 1,200 to 2,400 meters (3,900–7,875 ft), the cold zone 2,400 to 3,600 meters (7,875–11,800 ft), the sub arctic zone 3,600 to 4,400 meters (11,800–14,400 ft), and the arctic zone above 4,400 meters (14,400 ft). Nepal experiences five seasons: summer, monsoon, autumn, winter and spring. The Himalaya blocks cold winds from Central Asia in winter, and forms the northern limit of the monsoon wind patterns.

CURRENCY & FOREIGN EXCHANGE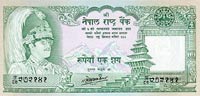 Foreign currencies must be exchanged only through the banks or authorized foreign exchange dealers. The receipts from such transactions are to be obtained and retained. Visitors can exchange foreign currency at the foreign exchange counter at the airport upon arrival.Visitor other than the Indian nationals have to make the payment in hotels, travel or trekking agencies and air tickets in foreign currency. Non-Indian visitors are not allowed to import or export Indian Currency. The approximate value of one US Dollar is equivalent to Rs. 68.97 as of June 2008.

TRAVEL ROUTE



Royal Nepal Airlines the national flag carrier of Nepal and other International airlines operate scheduled flights to Kathmandu from Abu Dhabi, Bangkok, Bombay, Baharian, Calcutta, Colombo, Delhi, Dubai, Dhaka, Doha, Frankfurt, Hong Kong, Karachi, London, Moscow, Muscut, New York, Paris, Riyadh, Singapore and Some of other countries. The International Airlines operating their flights to Kathmandu include Air Lanka, Aeroflot, Biman Bangladesh Airlines, China South West Airlines, Druk Air, Gulf Air, Indian Airlines, Ittihad Airlines, Lufthansa, Pakistan International Airlines, Qatar Airways, Singapore Airlines and Thai International Airlines.

VISA PROCEDURE

You can apply in your home country or bought at the airport on entry.
A single entry visa costs US$30 for 60 days.
Additional re-entry costs US$25 - Single; US$40
Double; US$60 Multiple.
A 30 day extension costs US$50 (in Nepalese currency)
you must pay for the initial visa in US dollars, cash. Plus you need passport size photos.